Your electrical products put tothe test
in our test laboratories
Are you a manufacturer, importer or distributor who wants to test the conformity of your electrical and electronic products before they are placed on the European and international markets?

Sopemea's electrical product conformity laboratories can assist you in your assessment process. Sopemea is IECEE accredited by the CBTL (Certification Body for Testing Laboratory), as well as by COFRAC. Our electrical compliance engineers and test technicians are able to offer you a complete qualification of your electrical products. Our expertise supports you throughout the life of your electrical products: during the research and development phase by helping you determine the applicable standards for your product; during the design, prototyping and pre-production phases for pre-qualification testing; during the production phase with evaluation and full testing; and finally during the market launch phase with the certificate of conformity issued.
Our electrical products conformity laboratories are able to offer you the following services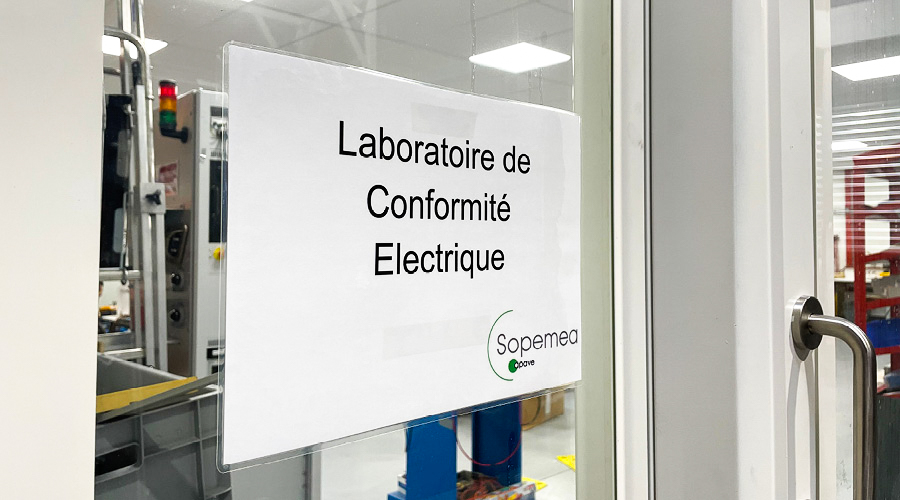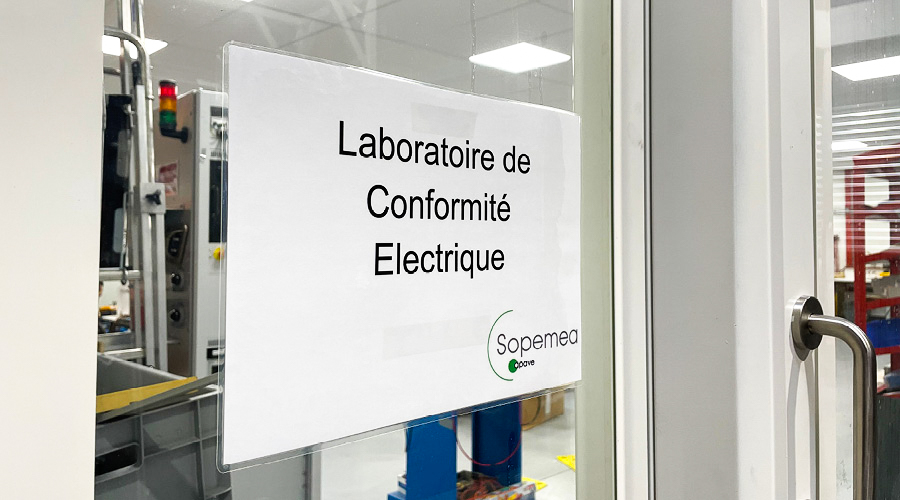 EMC tests according to regulatory specifications or according to the regulations
Radio tests according to RED standards

Schematic, routing and integration reviews

Pre-qualification tests
Electrical safety testing according to regulatory specifications
Electrical compliance assessment with European directives and international standards
Support for CE marking and technical documentation
IP testing and IK testing
Conformity assessment of electrical products within the framework of CB certification, for international marketing
Support for the qualification of electrical products for international markets (USA, Canada, Japan...)
Why test the conformity of
your electrical equipment?
Whether you want to sell your product on the European or international market, many regulations, directives and standards on electrical products apply. In Europe, you will have to comply with the current CE marking standards, while internationally, you will be subject to various international certifications (UKCA, FCC, ISED...). Our electrical compliance laboratories will support you throughout the qualification process of your products, whatever the target market.

The essential requirements and regulatory specifications for electrical products concern different types of risks; electrical risks, but also mechanical, thermal, fire, electromagnetic compatibility (EMC) and radio. Your products must also meet the requirements of various local regulations. Our electrical products experts will guide you in defining the relevant standards, whatever your sector of activity, and thus enable you to market your equipment quickly and cost-effectively.
Our services and equipment for
the conformity of electrical products
Our teams of engineers and technicians know their test equipment inside out. They also have a perfect knowledge of international standards and directives.
Sopemea has high-performance technological equipment:
Electrical sources (stabilised 50/60 Hz power supplies, generators/converters up to 400A)
Test chambers compatible with all your equipment: from subsystems to complete systems, with or without turntable, cooled or not, with or without gas extractor, measurements at 1, 3 or 10 metres
EMC and radio
Probes for measuring electric and magnetic fields (comparisons with thresholds for civilians and workers)
Equipment for IP code evaluation tests (10m3 talcum dust chamber, equipment for IPx1 to IPX9 tests).
Acquisition units for temperature measurements (thermocouples)

Equipment for electrical measurements (oscilloscope, probes, multimeters, leakage current, etc.)

Equipment for power measurements
Mechanical tests of electrical enclosures IK01 to IK10 (impact hammers, balls, impact mass, etc.)
Dielectrimeter
Electrical
conformity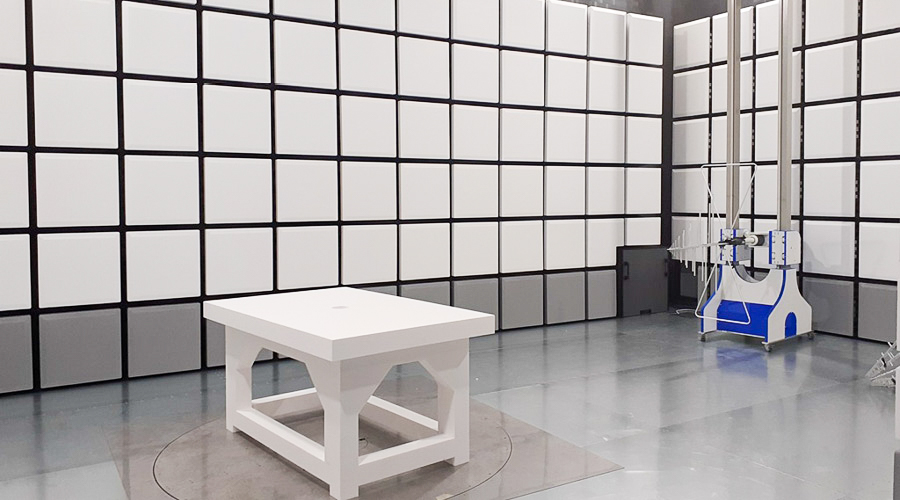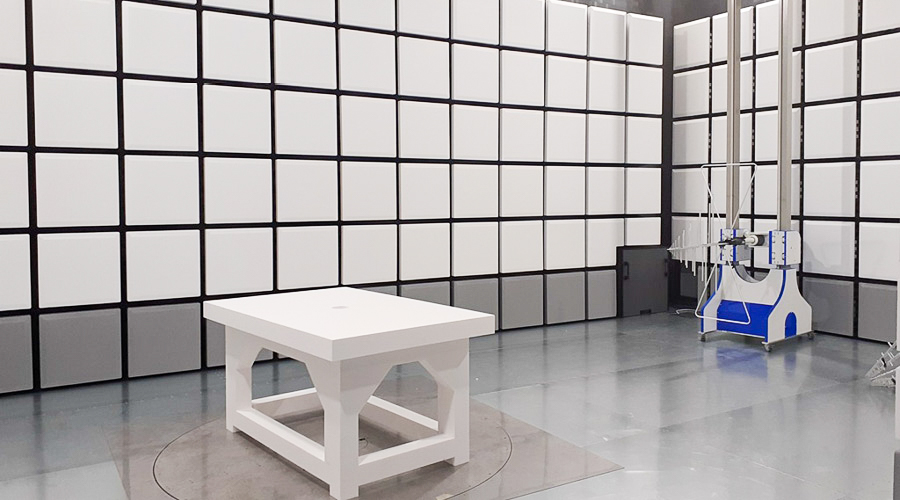 Our laboratories are ISO 17025, COFRAC and IECEE accredited. In addition to these quality guarantees, we have exceptional testing and measuring equipment covering many product categories, such as
Electromedical and paramedical devices: IEC 60601-1 / NF EN 60601-1

Household electrical appliances: IEC 60335-1 / NF EN 60335-1

Information processing and audiovisual equipment: IEC 62368-1 / NF EN 62368-1

Measuring and control devices (test benches, laboratory equipment, etc.): IEC 61010-1 / NF EN 61010-1

Charging systems for electric vehicles: IEC 61851-1 / NF EN 61851-1

Industrial machines and equipment: IEC 60204-1 / NF EN 60204-1 ; IEC 61439-1 / NF EN 61439-1

Luminaires: IEC 60598-1 / NF EN 60598-1

Etc.
Electromagnetic
and radio compatibility
Our ISO 17025 and COFRAC certifications, our numerous measurement equipments as well as our industrial analysis laboratory, AEMC Lab, allow you to benefit from a wide range of EMC and radio testing and certification services. We cover - among others - the essential requirements of CE marking for Europe, UKCA regulatory specifications for the UK, FCC standards for the USA and ISED guidelines for Canada. We can also qualify many types of products such as
Electromedical and paramedical devices: IEC 60601-1-2 / NF EN 60601-1-2

Household electrical appliances: EN 55014-1/-2

Information processing and audiovisual equipment: EN 55022 ; EN 55024

Measurement and control equipment (test benches, laboratory equipment, etc.): EN 61326-1/-2

Charging systems for electric vehicles: IEC 61851-21-2 / NF EN 61851-21-2

Equipment integrating transmitters and receivers: measurement of conducted and radiated radio power, measurement of the occupation band (duty cycle from 100% to 0.1%), measurement of out-of-band (OOB) and unwanted (Spurious) emissions, blocking tests
Failure analysis by
our specialised laboratory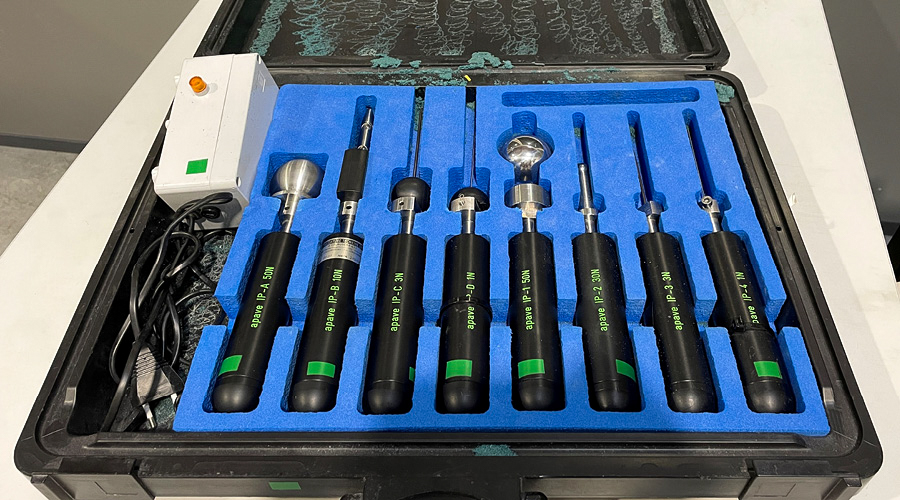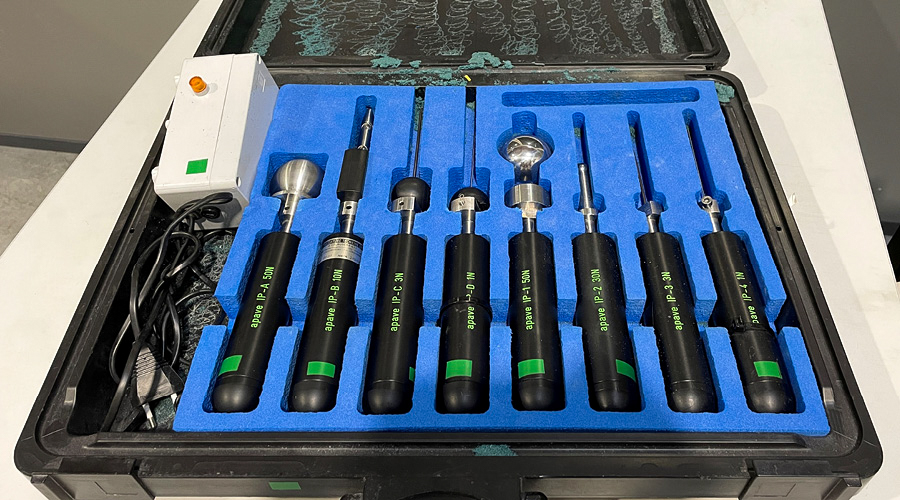 Our specialised laboratory has a team of engineers with experience in the field of EMC. Our engineers know how to detect and analyse possible problems in your designs before and after the manufacture of prototypes of a board, a cabinet, a machine, an installation, etc. Thus, you can anticipate EMC risks before qualification in the laboratory.
Our team :

Identifies the EMC problems of your electrical products by analysing your integrated components and electrical and electronic diagrams up to mechanical integration, by calculation, by feedback or by testing.
Proposes industrial solutions adapted to all your environmental constraints.
To do this, we mainly use the following inspection equipment :
LF current clamp to measure LF conducted emissions

HF current clamp to measure radiated emissions from cables

Near-field probes to measure the radiation from components on a board, from a slot, etc.

Fast burst transient generator for EN61000-4-4 immunity testing

Electrostatic discharge gun to check immunity EN61000-4-2

150MHz 10V/m walkie-talkie to check partial immunity EN61000-4-3

HF receiver with single-phase RSIL to measure conducted emissions CISPR11...
IP testing and
IK testing
Our laboratories in Genas (69) are equipped to test the protection of your electrical products against the penetration of liquids or solids.
We have the equipment to carry out IP dust tests on products up to the size of a cabinet. We also perform water IP tests, ranging from IPX1 to IPX9. All tests are performed in a controlled environment.
Our solid penetration testing equipment ranges from IP1X to IP6X; level 1 being protection against large foreign bodies, and the final level being protection against dust penetration where we place your product in a 10m3 high volume dust chamber.
If you wish to test the permeability of your electrical equipment, our water IP tests will start by testing its protection against raindrops (2m x 1.2m adjustable height drip tray); for a higher level of impermeability, we will apply a jet of water directly to your equipment. Finally, to test the total impermeability of your products, we will immerse them in a tank until they are completely submerged.
We are also equipped to test your enclosures against mechanical shocks thanks to our IK01 to IK20 test bench. Thus, we can test products of any size; electrical cabinets, domestic electrical boxes, medical equipment, lighting fixtures...
Sopemea also has testing facilities to test your electrical products in specific climatic environments:
Dry and wet heat tests

Low and high temperatures

Thermal shock

Rapid temperature variation

Loss of cooling

Low and high pressure

Rapid decompression

Solar radiation

Rain and/or wind test

Icing test: icing, ice, snow

Salt fog

Moulds

Contaminants

Sand & dust winds

Combined tests
Guaranteeing access and qualification of your
electrical products on international markets
The CB scheme is your passport to foreign markets. Set up by the IEC (International Electrotechnical Commission), the CB scheme aims to facilitate the certification of electrical products that comply with IEC standards. The CB scheme is based on a system of equivalence, recognising the test results of national bodies at international level. In practice, this means that a successful test in our electrical compliance laboratories entitles you to equivalent certification in member countries. This saves you from having to multiply the assessments required by each country. IEC standards are recognised in over 100 countries today.
As an IEC-accredited electrical compliance laboratory, we can help you obtain all the necessary certifications to enter international markets.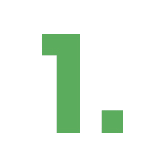 A COMPLETE SERVICE OFFER ADAPTED TO YOUR NEEDS
Ongoing multidisciplinary R&D expertise. The possibility of carrying out your test campaigns and responding to your problems of numerical simulations and expert measurements.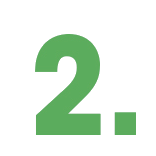 MORE THAN 70 YEARS OF EXPERIENCE 
Technical competence and regulatory knowledge of each of our clients' sectors of activity. COFRAC accreditation for our laboratories in France, UKAS in the UK.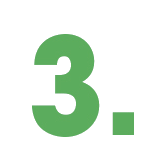 A LOCAL NETWORK
A wide range of test facilities and calculation centres to advise you from the early stages of your project to the completion of your tests.
Need to be
accompanied?
Our experts are at your service!
Let us
guide you!
Discover the Sopemea offer!