Contact us

Would you like to learn more about our services? Contact our experts who will answer your questions.
Testing facilities
adapted to your products
Mechanical testing assesses the behaviour of equipment in real-life conditions by applying mechanical stresses. Sopemea has all the necessary equipment in its 25,000 m² of laboratories in France and the United Kingdom for your mechanical testing campaigns:
seismic

vibrations

shocks

impact

hydraulic

constant acceleration...

IK

Easements are available to simulate the tests under operational conditions:
electrical power
electrical network frequencies 50Hz/60Hz/400Hz
pressures (nitrogen, air, water, Skydrol...)
Data acquisition units are available to record several hundred measurement channels of all types of magnitude (accelerations, displacements, stresses, forces) as well as recorders for the functional control of equipment (dry contacts, micro-cuts, electrical rebounds).
Low frequency
vibration tests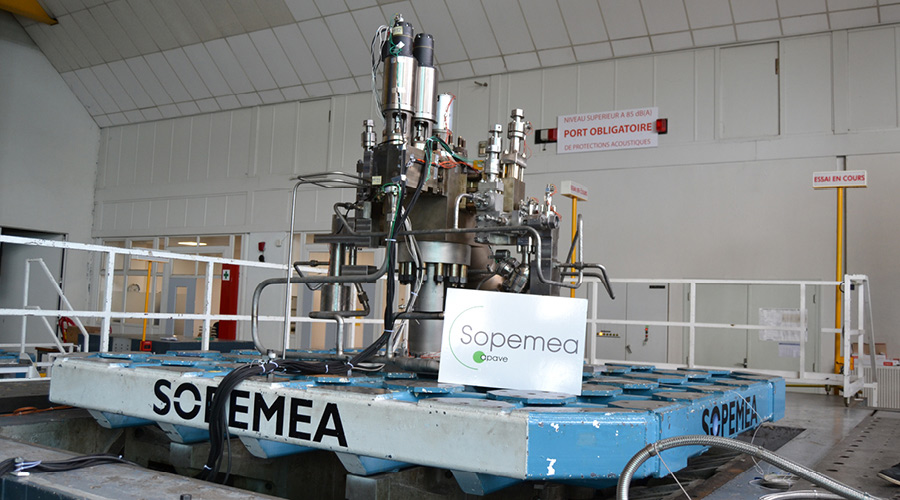 Sopemea has one of the largest bi-axial vibration facilities in Europe. A 3m x 3m table, equipped with two 300 kN electrohydraulic jacks, carries out your seismic tests on bulky materials weighing several tonnes. The Vélizy laboratory is equipped with three overhead travelling cranes, each weighing 10 tonnes, and several access points within the halls for transporting your bulky equipment.

Sopemea is recognised for its expertise in vibration testing, characterisation and consultancy.

All types of vibratory environments are possible, for all sectors of activity (Nuclear, Aeronautics, Transport, Defence, Space, Telecoms, etc.)

Tests carried out in accordance with the following standards:
Generic standards: IEC 60 068-2

Railway standards: IEC 61373

Nuclear standards: RCCE, CRT 91C112

Aeronautical standards: ABD0 100 (Airbus)
High frequency
vibration tests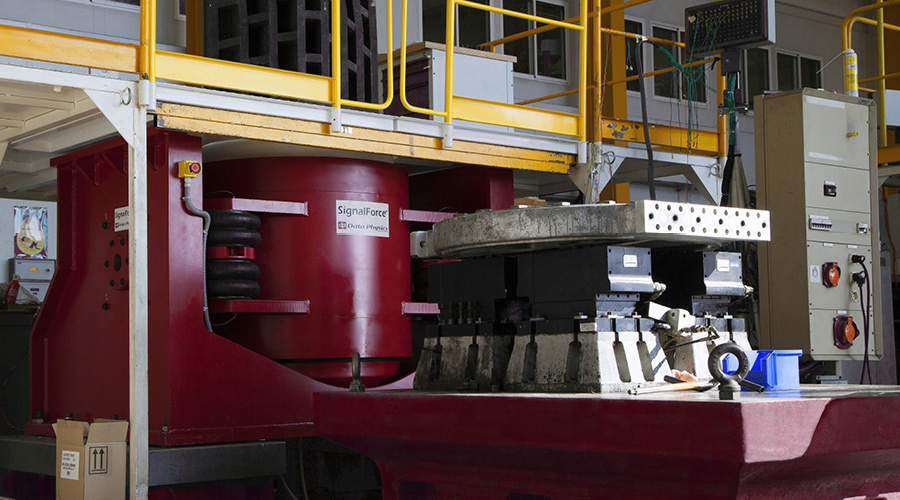 These types of tests are performed by electrodynamic exciters. The diversity of means covers a very wide range of equipment. Sopemea has the largest electrodynamic vibrator in Europe, with extraordinary characteristics. Two overhead travelling cranes of 10 tonnes each, a 9-tonne forklift truck and a laboratory opening of 7m x 6m make it possible to handle bulky equipment.


Climatic chambers or heat/cold generators allow combined vibration/temperature tests, for example.

Tests carried out in accordance with the following standards:
Generic standards: IEC 60 068-2

Aeronautical standards: DO-160 (civil), MIL STD 810 (military)

Military standards: STAN AG 4370 (NATO), DEF-STAN 0035 (British standard)
Acceleration
tests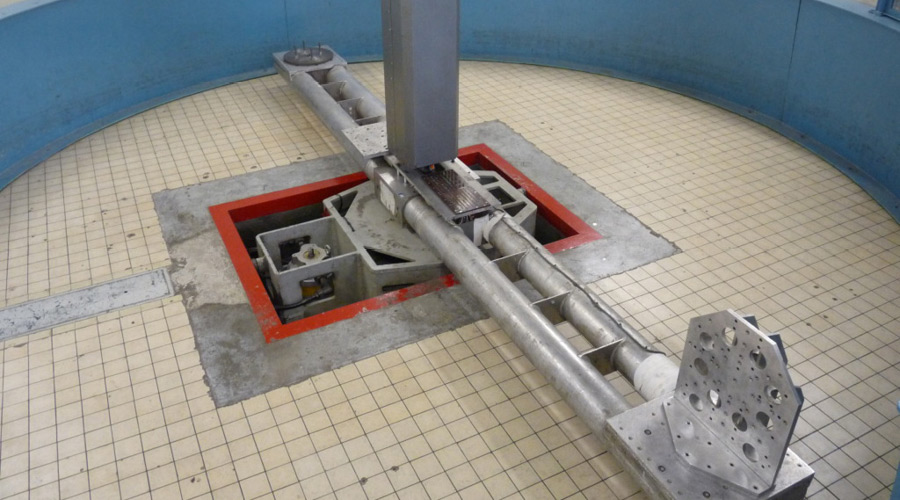 These tests are carried out with a centrifuge, which performance reaches accelerations of several tens of g on material weighing several tens of kilos.
A rotating manifold with a hundred or so channels allows these tests to be carried out on the equipment in operation.f specific tests (test benches, customisation of tests...).
Structural
tests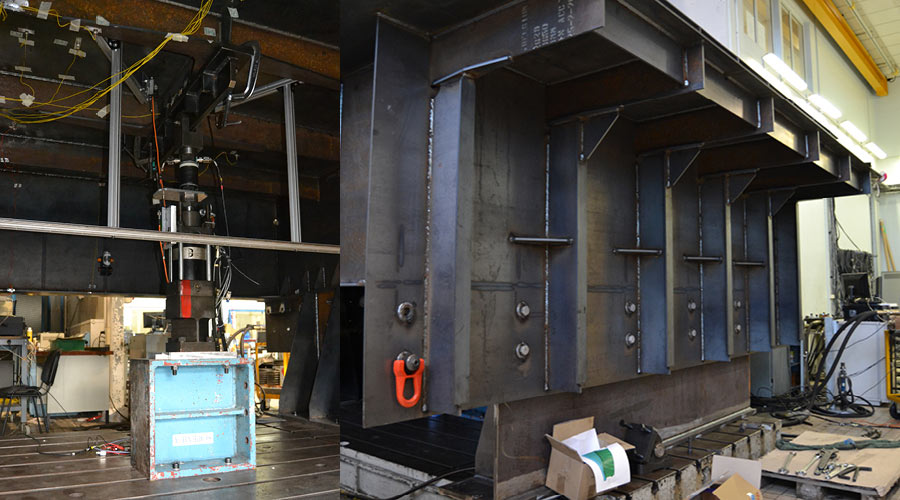 Sopemea's teams have a 32-channel control system that can carry out several structural tests simultaneously.
A full range of hydraulic cylinders covers a wide range of forces (up to 1000 KN) and displacements (up to 500 mm). Some tests, at much lower force levels, are offered with PLC-controlled pneumatic cylinders.
These tests can be carried out in controlled climatic conditions (hot, cold, wet, etc.).
Sopemea is also equipped with hydraulic power units allowing high flow rates and dynamic structure tests (endurance). These types of tests are carried out on large cast iron plates, equipped with modular elements that can be combined.
The modular test benches are defined and designed by our design and calculation department, using SolidWorks and ANSYS software.
We can also provide you with our expertise for the realisation of specific tests (test benches, customisation of tests...).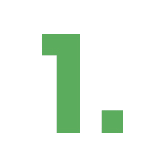 A COMPLETE SERVICE OFFER ADAPTED TO YOUR NEEDS
Ongoing multidisciplinary R&D expertise. The possibility of carrying out your test campaigns and responding to your problems of numerical simulations and expert measurements.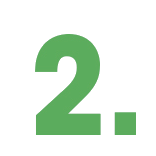 MORE THAN 70 YEARS OF EXPERIENCE 
Technical competence and regulatory knowledge of each of our clients' sectors of activity. COFRAC accreditation for our laboratories in France, UKAS in the UK.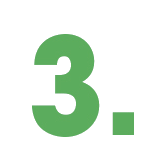 A LOCAL NETWORK
A wide range of test facilities and calculation centres to advise you from the early stages of your project to the completion of your tests.
Need to be
accompanied?
Our experts are at your service!
Let us
guide you!
Discover the Sopemea offer!