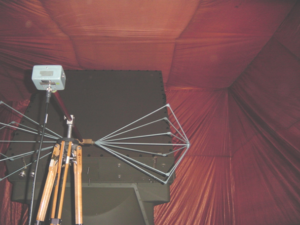 A brief history of our know-how through EMC test campaigns created under the GERAC entity, i.e. since October 2019, recalls the experience capitalized within Sopemea.

Our first tests in strong field immunity with the use of a mobile reverberation chamber (CRBM) at a customer's site date back to 2003. These were tests on radars for Thales (see photo on the left). Since then, numerous evaluation campaigns have been carried out.
First, in 2006, we made some for Dassault Aviation in order to carry out high field strength tests (HIRF) on aircraft.

Then, in 2010, we sold DGA-TA a mobile Reverberation Chamber - CRBM (including brazier) adjustable to 2 sizes, one to test the front end of an aircraft, the other to test the rear end of the engine.

Then, in 2013, a major customer asked us to measure the transfer function of the propulsion system of an aircraft engine on their site. We then decided to manufacture a new, large, inflatable Faraday cage that could be used as a mobile CRBM.

From 2015 to 2018, we used this test facility to make shielding attenuation measurements on large systems for suppliers of our customer Thales. During this period, several radiated immunity measurement campaigns are performed for our major customer Thales.

In 2018, we chose a new partner, "Aircaptif", to undertake the project of equipping ourselves with new self-inflating means with the innovative know-how of this company, through the creation of a new Faraday cage usable in anechoic chamber, with the use of absorbers and also usable in CRBM.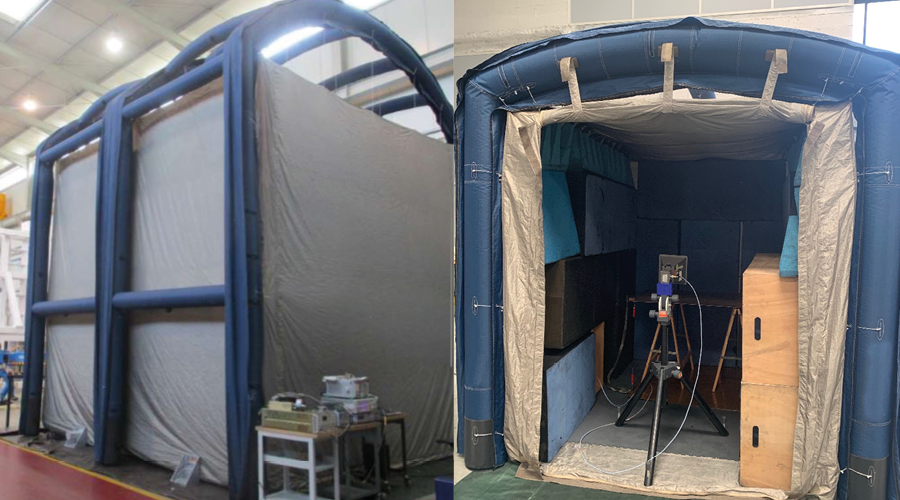 And the first tests are executed in the summer of 2019 with the new test medium, which allows us to achieve very good measurement dynamics and produce very high electric fields.